Top 10
New York Modeling Agencies (Male)
NYC Modeling Agencies for Male Models
When compiling our list of the Top 10 Male Modeling Agencies New York we first had to ask ourselves – what makes an agency worthy of being rated a top 10 male modeling agency? Is it the size of the agency and the number of models they represent? Or, is it the agency's ability to develop and nurture its models and build long-term careers and relationships even if the agency represents only a small group of men and is considered a "boutique agency"? What is the criteria needed to name an agency to a top ten list?
There are numerous factors to consider when looking for a male modeling agency to represent you. Even though an agency may be the biggest and most popular, it doesn't necessarily make it the best agency for you. Smaller, boutique agencies can be a great place for new models to get the focused attention they need in order to develop their careers. On the other hand, a big well-known agency may be more appropriate depending on your experience and particular needs.
Click Models
Founded 30 years ago with offices across the U.S., Click represents over 1000 models with divisions focusing on Women, Men, Plus Size, Runway, Showroom, FIT, and Television Commercials. Click's top male models include Chris Fawcett, Travone Hill, Matthew Terzes and David Axell.
Check out our Success Stories to see Shawn K. who we signed to Click Models.
DNA Model Management
Owner David Bonnouvrier and his team of killer agents have kept DNA at the top of the heap for over a decade. DNA's long lasting relationships with the most important models and power players in the industry make DNA one of the most successful agencies in New York and abroad. DNA's top men include the androgynous phenom Andrej Pejic, Josh Beech, Tomas Skoloudik and Miles McMillan.
Ford Models
Ford Models has been one of the most recognized and respected modeling agencies for over 50 years. Representing supermodels Veronica Webb, Rachel Hunter, Cheryl Tiegs, Jerry Hall and Christie Brinkley, Ford Models continues to be an industry powerhouse. Ford's top men include David Gandy, Paolo Anchisi, Brad Kroenig, Matthew Terry and Adrien Sahores.
Check out our Success Stories to see Mark G. who we signed to Ford Models.
Fusion Model Management
Fusion Model Management, a boutique agency, has grown from a small group of models into one of the industry's most important agencies. Fusion's keen eye for new models has turned many unknowns into top models working for major clients including Dior, Chanel, Dolce & Gabbana, Yves Saint Laurent, and Jil Sander.
Check out our Success Stories to see Juris J. who we signed to Fusion Models.
Fusion Models Interview (Model Talk Radio) >
IMG Models
With offices in New York, London, Paris, Milan and Sydney, IMG Models is considered one the most powerful and largest men's agencies in the world. IMG represents the industry's top male models including Patrick Petitjean, John Kortajarena, Mathius Lauridsen, Vincent Lacrocq and Oriol.
Major Model Management
Since 2000, Major Model Management has established itself as the quiet powerhouse of the modeling industry. Katia Sherman, co-founder and President, serves as the centerpiece of a network of agents whose range is international. Major's top men include Tony Ward, Florian Van Bael, Rob Evans and Jake Shortall.
New York Model Management
New York Model Management searches throughout the world for undiscovered talent, intent upon its goals to turn unknown models into international stars. New York Models' top male models include Wouter Peelen, Will Chalker, Andrew Cooper and Daisuke Ueda.
Check out our Success Stories to see Clay W. and Vincent D. who we signed to New York Models.
Next Model Management
Next Model Management is a global fashion power house with offices located in NYC, London, Paris, Milan, LA and Miami. A force to be reckoned with since 1989 when Next was established by Faith Kates, the addition of Joel Wilkenfeld in 1992 launched these business partners to the forefront of fashion with global brands at their fingertips. Next's top male models include Cristiano Basso, Jean Francois, Jeffrey Bowyer-Chapman and Greg Nawrat.
Q Model Management
Q Model Management's models have appeared in the world's leading fashion magazines and have captured an impressive amount of advertising campaigns; Chanel, Giorgio Armani, Gucci, Louis Vuitton, Dolce & Gabbana, Versace, CK1, Banana Republic, A&F, Revlon and L'oreal.
Check out our Success Stories to see Toni P. and Kenyiro who we signed to Q Models.
Red NYC
Red Model Management is a top New York modeling agency representing high fashion male and female models. Red's top male models include Ralf Javoiss, Tom Bull, Arthur Keller and Julian Naderer.
Re:Quest Model Management
Founded in 2000 and starting with six models and a few clients, ReQuest Model Management has grown into a leading full service model management agency representing and managing top models David Agbodji, Artur Kulkov, Cole Mohr and Yuri Pleskun.
VNY Model Management
Established in 2001, VNY Model Management is a boutique agency with a power image and reputation which are the driving factors for their success. VNY and owner Lana Winters are responsible for creating the careers of top male models Sean O'pry, Nick Snider, Marcus Hedbrand, Julien Sabaud, Nick Bryant, Milan Krouzil, Scott Walhovd and Anderson Noel.
Wilhelmina Models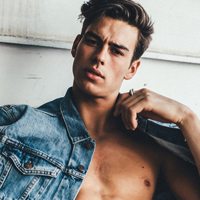 Wilhelmina Men is the unparalleled top male model agency in the world representing more male supermodels than any other model management company. Wilhelmina Model Management represents such male superstars as Mark Vanderloo, Gabriel Aubry, Alex Lundqvist, Noah Mills, Garrett Neff and Ben Hill.
GET SCOUTED®
START YOUR MODELING CAREER TODAY!
250+ Top Modeling Agencies  | All Ages, Sizes & Heights | No Experience Required