We are so happy to have you with us!
Here are some tips to help you create your model profile
1.  Enter Personal Info & Stats (Measurements)
Click the link MY ACCOUNT on your payment confirmation page, or at the top of our website. You will automatically be taken to the Profile and Photos page. Enter your display name (your first name and last initial is preferable), first and last name (for admin purposes only), measurements, and other information you'd like to appear on your main profile page.
2. UPLOAD PHOTOS
Choose or drag photos from your computer or mobile device and place into the uploader.
For quicker uploads and to reduce timeout errors please keep photos under 5 MB in size and upload in batches of no more than 5 photos at a time.
You can upload up to 30 photos into your profile.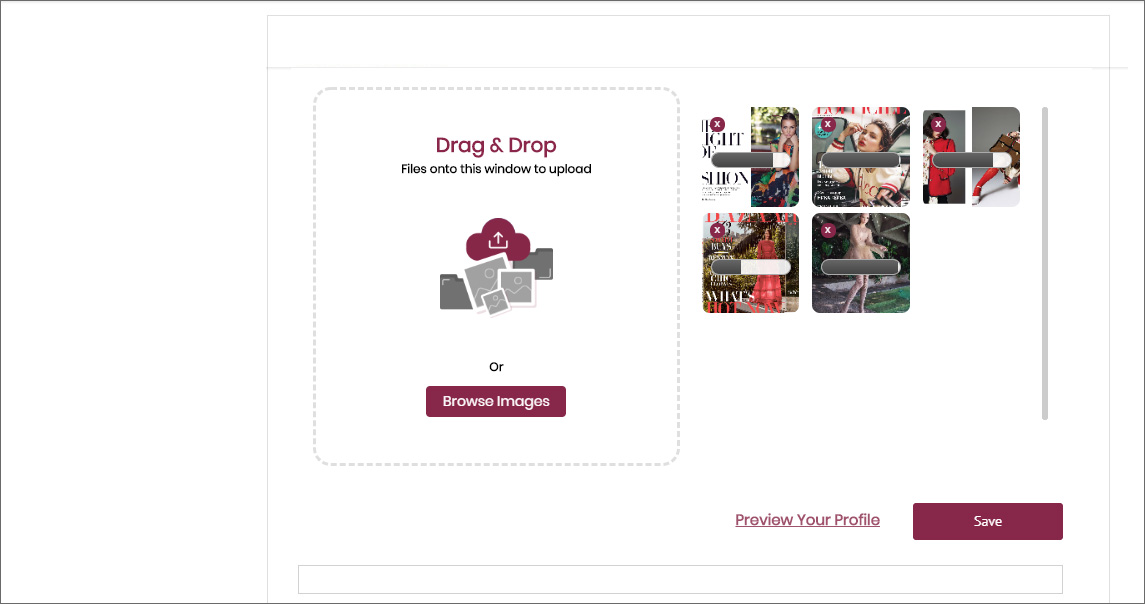 3. WAIT FOR CHECK MARKS
Please wait for check marks indicating photos have uploaded completely before clicking Save.

4. ERROR MARKS

If you receive an error mark it may be due to one or more of the following reasons:
a. Your photos are too large. Resize your photos to no more than 5MB each. No larger than 1MB is preferable.
b. The total number of photos you uploaded at one time may be too much for your internet service provider to process at once. Re-upload the photos one at a time, or in smaller batches.
c. The total number of photos you've uploaded exceeds the 30 photo maximum.

5. CHOOSE MAIN COVER PHOTO
You can choose your main profile photo by selecting that photo and clicking "Use as Cover".
6. SAVE / PREVIEW PROFILE
7. Activate Photo Submit Service
After uploading your photos you can activate the Photo Submit Service. Please upload ALL the photos you want submitted BEFORE activating the Photo Submit Service as the ones in your profile at the time of activation will be the only ones used. 
8. View Photo Submit Report
Your completed Report will be uploaded to the Photo Submit Service section of your account within TEN BUSINESS DAYS. Weekends and holidays are not included. Click the VIEW link to open your completed Report.
1. Photos Rotating Sideways
The problem with rotating photos is not caused by our website, but stems from the position of your phone or digital camera when you took your photo. Your camera adds EXIF data so it knows how to display your photos in your device. It is possible to remove the EXIF data. Do a Google search on "How to Remove EXIF Data" for instructions on removing it for your particular device.
2. Timeout Error
Your internet service provider may limit the amount of data you can transfer at one time. If you upload several photos simultaneously, or if they are too large you may receive a timeout error notice. Please check that your photos are not over 5 MB in size, then re-upload them one at a time. This should resolve any timeout error notices.
3. Social Media Links Not Linking
Be sure to enter the full URL including the https:// when adding your social media page links to your page.
Frequently Asked Questions
1. It's Been 10 Days and I Haven't Received My Photo Submit Report
Reports are completed and uploaded to your account within TEN BUSINESS DAYS. WEEKENDS & HOLIDAYS ARE NOT INCLUDED. Photos submitted after 5 PM Eastern Time will be processed the following business day. If you haven't received your Report within ten BUSINESS days please contact our office immediately so we can investigate.
2. What Type of Photos Should I Upload?
You may upload simple snapshots or professional photos. The choice is yours.
If you are uploading snapshots keep the following things in mind:
Photos should be clear and in focus
Include at least one headshot and a full length shot
Keep makeup to a minimum
Keep hairstyles simple and well groomed
Keep clothing simple and in good taste
Include a swimsuit photo if you are comfortable wearing a swimsuit
Do not upload nude or sexually suggestive photos.
Do not upload photos with guns, knives, or weapons of any kind.
Fancy clothing and makeup is unnecessary for kids. They should look like regular kids.
Please do not wear fur in your photos. It is offensive to some agents and clients, and it's just wrong.
First impressions are important. Simple is always best when trying to impress the agents and scouts. Nude or sexually suggestive photos will never impress the agents, and will be removed from our website if deemed to be inappropriate. Tasteful bathing suit shots and even semi-nudes are okay, but the key is "tasteful".
If you are uploading professional photos your photographer can guide you in choosing the best photos.
3. I Activated the Photo Submit Service Before Uploading All My Photos, Can I Still Add Them?
If you have all your photos uploaded within 24 hours of activating the Photo Submit Service you will be fine. We always check your profile one more time before we submit them to the agents and scouts. Photos uploaded 24 hours after activating the service will not be included in your submission, but will be available to the agents and scouts who visit our website and view your model profile.
4. How Will Agents and Scouts Contact Me If They're Interested?
When agents and scouts view your model profile they see a Contact Model button on your page. They will click the contact button which will automatically send you an email with their message and contact information. It is your choice whether you want to respond to the agent or scout.
5. Can I Submit the Photo Submit Service More Than Once?
Yes. You can submit your photos to the agents and scouts through the Photo Submit Service as many times as you wish. The fee will apply for each new submission. You can purchase the service again in the Additional Services section of your account dashboard.
All of us at ModelScouts.com wish you tremendous success in your modeling career!